Post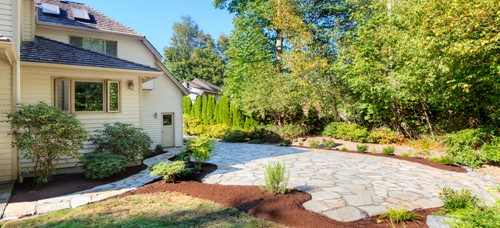 Image by Jo Ann Snover from Shutterstock
There are many ways you can make your house attractive to prospective buyers. Curb appeal goes a long way when it comes to first impressions. Your yard is one indication of the amount of time you've spent caring for your property in general. Buyers are undoubtedly attracted to homes that have been properly maintained so if you plan to sell your property, don't neglect your landscaping. Just like washing the dishes and vacuuming floors positively impacts the look of your interior spaces, regular yard maintenance will do the same for your exterior spaces.
The following tips can help give you a good head start:
Plan to mow your lawn at least once a week. Use a weed wacker or edger to clean up around fences or play yards where your lawnmower might not reach.

Remove weeds, leaves and clippings from walkways and patios. After you mow the lawn, use a leaf blower or broom to remove lawn clippings from walkways. If you have a brick or stone pathway, pull the weeds that may grow between the pavers.

Create clean edges between your grass and planting areas. You don't need to install special materials to achieve this look. Use a straight-edge shovel to create or refresh an existing edge then add a fresh layer of mulch or stone to complete the transition.

Overgrown plants can be hard for homebuyers to overlook. Neglected shrubs and bushes may block the view of your house, they may interfere with walkways, doors, or other plantings and often just look untidy. Invest in a pair of loppers or hand pruners that can handle the plantings on your property. If you are not familiar with how to approach trimming the shrubs or trees you have, be sure to do some research before you start cutting. A local nursery or landscaper can provide advice on how and during which season you should prune your plantings.
A smart way to attract prospective buyers is to improve the landscaping around your home. Consult with your real estate agent for more ways to improve your curb appeal and for local landscaping resources.