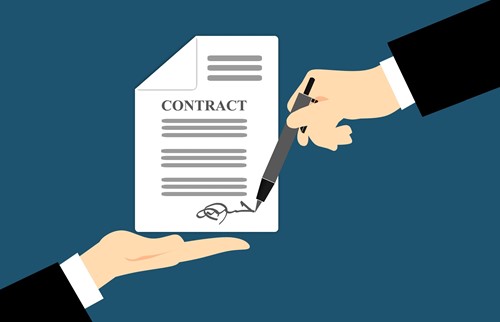 Photo by Mohamed Hassan via Pixabay
Buying and selling real estate is a complicated process that takes time. Because you are making a life decision and dealing with strangers, you should always have a valid purchase contract. Real estate agents use a standard contract, but the buyer and/or seller may make changes to that contract. In making changes, be careful not to make the contract invalid.
A Valid Contract
Four elements make up a valid contract:
You must have an offer. In real estate, this is the party purchasing the real property.

You must have consideration. This is something of value, usually cash. In real estate contracts, this is called good faith money or earnest money and is usually 1 to 3 percent of the purchase price. The good faith money is typically non-refundable should the buyer back out of the contract. The consideration shows that the contract is not a gift.

The other party must accept the offer in the contract. If the seller signs the contract, they accepted your offer. However, if the seller does not accept your offer, they do not sign the contract. If the seller wants to counter, this may be verbal until the two parties agree upon a number. The real estate agent drafts a new contract that both parties sign.

Finally, the contract must contain mutuality or what attorneys often call "a meeting of the minds." By signing the contract, the parties agree that they understand and agree to the terms of the contract.
Components of a Real Estate Contract
A real estate contract must contain:
The buyers' full names.

The sellers' full names.

The address and legal description of the property.

The purchase price and how the buyer will pay it, whether cash, cash subject to a new mortgage, cash subject to an existing mortgage, cash with the assumption of the existing mortgage or sale by land contract.

The amount of earnest money.

How the buyers and sellers will handle real estate taxes, assessments and adjustments.

How the sellers will transfer title and that the title is free and clear.

Date and time of possession of the property or closing date. In most cases, this is the closing date since most people do not have the cash to buy the property without a mortgage. It generally takes 30 to 60 days for a mortgage to be approved.

A list of improvements and fixtures that the seller will include in the purchase price.

Any other general or special conditions for the sale and/or purchase of the property.
Exceptions
Most real estate contracts also have exceptions. If these terms cannot be met, the buyers' non-refundable deposit becomes refundable. Common exceptions include an inspection meeting the buyers' expectations and the ability of the buyer to procure financing. The parties may further negotiate the price of the real estate based on the inspection. The parties may also add any other agreed-upon exceptions.